Advice and Tip
Thursday, 18/09/2014, 09:47
Creative office design to become popular: study
18/09/2014
Creative office design would become a trend in the future to save rent and maintain work efficiency, according to a study of CB Richard Ellis Viet Nam Co Ltd.
Companies are increasingly looking for ways to compete for top talent while also improving productivity and saving on cost. Creating a flexible office environment is a way to achieve all three objectives. Therefore, the companies do not assign seats to anyone specifically, said the company.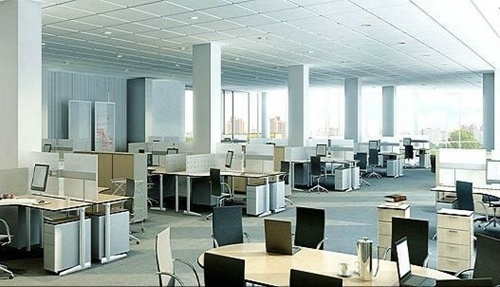 In the third quarter, one new office building was completed, supplying approximately 34,000 sq.m of office space.— Photo infonet.vn

"As an increasingly tech-driven workforce becomes more mobile, creative office design allows companies to maximise workforce potential by giving the most flexible workspace while also saving rental costs," said William P Badger, Jr, Associate Director of CBRE Office Services.
This approach is already being applied in forward-thinking offices in Viet Nam, and CBRE regional case studies indicate they can generate a significant increase in productivity while allowing the occupiers to reduce their office footprint, thus saving costs.
The CBRE also said that commercial tenants now see opportunities to upgrade from landed property to professional office buildings as rents continue to become more affordable and landlords offer more attractive incentives.
Delays in the construction of several projects from time to time such as Apex Tower, Handico Tower and Mo Market, make picture appear less grim. However, supply still outweighs demand. We will continue to see high pressures on projects in the West as current and future supply are abundant, the company said.
In the third quarter, one new office building was completed, supplying approximately 34,000 sq.m of office space.
Grade A average saw the rents fall by 3.2 per cent quarter on quarter (q-o-q) to US$30.4 per sq.m per month, while Grade B rents recorded a slight decrease of 0.4 per cent q-o-q to $18.4 per sq.m per month.
Grade B reported better performance on an annual basis, where it observed a 1.6 per cent increase year on year, thanks to the new building with higher-than-average asking rent. On the other hand, Grade A recorded a big drop of 6.2 per cent over the same period of last year.
Both Grade A and B saw occupancy rates fall this quarter. Grade A vacancy increased slightly by 0.24 percentage points q-o-q to 23.1 per cent in the review quarter. Grade B recorded the vacancy rate at 33.96 per cent, 1.22 percentage points higher than the previous quarter, as a result of a new office building in the market.
"The average asking rent will keep decreasing, while the vacancy rate will rise as new supply comes into the market," said Badger.
"We expect Grade A buildings in the central business districts to achieve higher occupancy in the future as supply is limited and tenants don't have many options to choose from in this segment. However, older buildings need to future-proof their performance by renovating and upgrading to compete with new entries."

bizhub.vn
Share: