Vietnam Insight
Thursday, 02/10/2014, 14:25
Unemployment rate rising in urban areas
02/10/2014
The unemployment rate among young people aged between 15 and 24 saw a sharp increase of 6.31% in the first nine months of 2014, three times higher than the country's average figure (2.12%), according to the General Statistics Office (GSO).
The GSO reported that about 3.51% of workers in urban areas were unemployed in the nine-month period, while the rate in rural areas was 1.56%.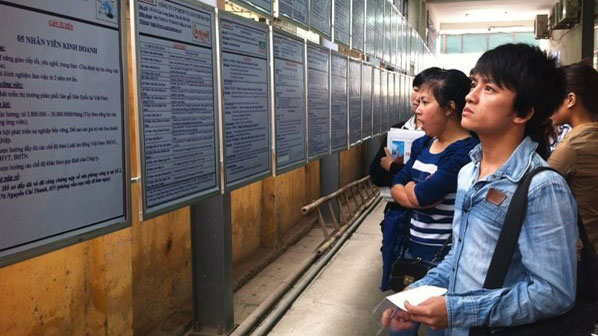 There's a widening gap in unemployment among young people in urban (11.71%) and rural areas (4.1%). The non-State and foreign-invested businesses experienced a slight increase in employment, from 4.2% in January to 5.6% in September.
While the number of employed workers in the mining industry decreased by 3.6%, businesses operating in the fields of processing, manufacturing, waste treatment, and electricity distribution generated more jobs (up 2.6-4.8%).
The northern province of Thai Nguyen led the country in employment generation (up 79.7%), followed by Nghe An province in the central region (up 45.5%), and Hau Giang province in the Mekong Delta (up 25.6%).
The GSO estimated that Vietnam currently has 54.4 million people of working age, about 51.6% of them are men and 48.4% are women.
dtinews.vn
Share: