Property News
Thursday, 04/09/2014, 15:16
Little Viet Nam project replicates unique architecture
04/09/2014
Syrena Viet Nam is replicating the unique architecture of Ha Noi's Old Quarter and Hoi An's Ancient Town in a project called Little Vietnam.
The firm, a subsidiary of the BIM Group, is developing the project in Halong Marina Urban Area in Quang Ninh Province's Ha Long City.
Covering 3.3 hectares, Little Vietnam aims to integrate values and investment opportunities by replicating original architectural features,lifestyles and traditional businesses of Ha Noi and Hoi An – two famous tourist cities of Viet Nam – in harmony with modern designs.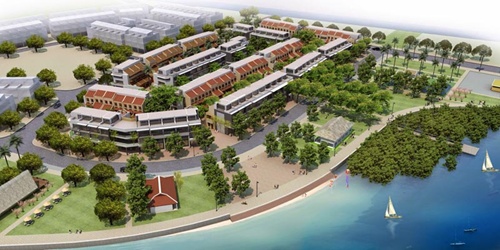 Little Vietnam is a key project of Syrena Viet Nam this year. — Photo Halongmarina.info

Little Vietnam is expected not only to become a developed trade community and an attractive destination for both domestic and international tourists, but also contribute towards honouring and preserving Vietnamese culture, said Doan Quoc Huy, Syrena Viet Nam's deputy general director.
The project, in its first phase, will have 109 three-and-a-half-storey houses, including 80 units in Ha Noi architecture (Little Ha Noi) and 29 units in Hoi An architecture (Little Hoi An), with their areas ranging between 76 square metres and 155.9 square metres, priced at VND3 billion (US$143,000) per unit.
The first floor will be for business purposes and the other floors would be the living area.
The first 15 units of Little Vietnam will be put on sale on September 12 with support policies such as for doing business, subletting and service fees, provided to the buyers by the project's investor.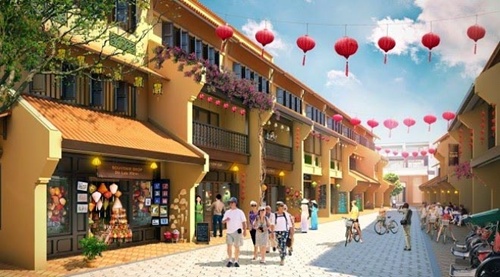 A model of a corner of Little Vietnam. — Photo Halongmarina.info

The construction of the project began in July and is scheduled to be completed in September 2015.
According to Matthew Powell, director of Savills Ha Noi which has been selected as the project's distributor, with its unique designs and well-established infrastructure, Little Vietnam would be a good investment in the long run as tourism property becomes an appealing segment to investors.
Property expert Dang Hung Vo said that the Little Vietnam project showed that there were still opportunities in the high-end segment of Viet Nam's property market which was facing the problem of high inventories.
The Halong Marina Urban Area, covering 248 hectares and stretching along a three-kilometre beach with a total investment of some $2 billion, also has commercial centres, entertainment zones, amusement parks, apartments, hotels and villas.
Syrena Viet Nam was established in 2008 to focus on investing in and developing real estate of the BIM Group which is also involved in producing and exporting food, commercial and services businesses, transportation and healthcare services. — VNS
Little Viet Nam project replicates unique architecture

bizhub.vn
Share: