Property News
Wednesday, 03/09/2014, 17:05
Design changes could lower home prices
03/09/2014
A focus on affordable housing designs could bring down the price of houses and enable low-income earners to purchase them, experts said.
Dr Khuat Tan Hung, a lecturer of Ha Noi Artchitectural University, said it was never easy to come up with low-cost housing designs, particularly in urban areas where demand for affordable housing was high but supply was beyond the reach of most people's incomes.
According to the construction ministry, the ratio between housing price and people's incomes in Viet Nam was too high, at about 24.5-26.6. This is much higher than that in other countries in the world. For example, the ratio is 6.25 in South Asia, 4.14 in East Asia, 2.21 in Africa and 6.25 in Europe and North America. The United Nations recommends a ratio ranging from three to four.
Hung said that in the context of Viet Nam, housing price was the first thing to take into account when making affordable housing designs for low-income earners before other factors like sustainability and architectural beauty.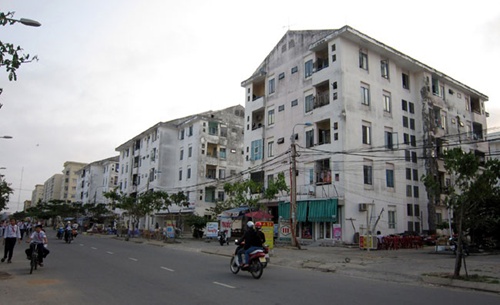 Hung cited factors that architectual designs could focus on in reducing housing prices, including the number of floors, the space of each apartment and energy use efficiency.
High population density, multi-storey buildings or vertical housing development could pave the way for the use of expensive plots of land in urban areas, the lecturer added.
"The Housing Law adapted from 2005 has a shortcoming. It requires affordable housing to be less than six floors, and this causes inconvenience in terms of housing development and use because of the high cost of land," Hung said, adding that the law should be revised.
A majority of low-income earners want accommodations measuring 30 to 50sq.m which they could afford to buy or rent.
Single persons want even smaller spaces than that, so long as minimum living standards are ensured, Hung said, adding that designs for small housing should be given more attention.
If climate factor and energy use were properly taken into account in housing designs, the accommodation would become more affordable because the cost of lighting, cooling or heating, is reduced, the lecturer noted.
Artchitect Hoang Anh of Ha Noi Construction University said that developing high-rise residential buildings in urban areas would cost more but possessed long-term economic benefits, particularly when land for housing was narrowed for developing other urban infrastructure.
The use of cheaper building materials, such as non-baked bricks, and the use of simple designs were other factors that could reduce housing cost, the architect noted.
"Multi-storey buildings could make maximum use of land area but require lifts," Anh said.
"As experienced in Singapore, the lifts should not be programmed to stop at every floor. For example, people living in the first three floors could use the stairs while those in higher floors could use the lifts, which could stop every two or three floors."
The move helps save energy, and the prices of apartments at different floors could vary depending on the service provided, the architect added.
Pricing is a priority but is not the most important factor in designs for low-cost housing, Anh said.
"Services contributing to stable living at the accommodations are most important," he noted.
Le Bich Thuan, vice head of the construction ministry's Institute for Urban Study and Infrastructure Development, said the Government allowed a shift from commercial to social housing projects to solve the problem of real estate inventory.
Developers who make this shift will be given incentives, including preferential loans, but they have to redesign housing in terms of area, population density, construction density and change their plans accordingly, Thuan said. — VNS

bizhub.vn
Share: