Company services
Properties for Rent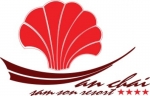 Van Chai Resort
Quang Cu, Sam Son Beach, Thanh Hoa, Vietnam, Hanoi
Tel: 04.37172438 - 3.7172439 - Fax:
Located 170km from Hanoi, the journey will take approximately 3.5 hours by car. Simply follow the National Highway no 1 out of Hanoi to Thanh Hoa city. From there, take the National Highway no 47 to Sam Son.Van Chai Resort is located at the end on a private beach.


With its stunning colonial architecture, beach front setting and personalized service, Van Chai Resort**** is the closest destination for your holiday! Nestled within the pine forests on one of the most romantic beaches in North Vietnam, Van Chai resort is a sanctuary for retreat and rejuvenation.