Vietnam Insight
Monday, 08/09/2014, 15:06
Thang Long boulevard becomes ghost estate of dismal housing
08/09/2014
Thang Long boulevard, one of the biggest roads linking Hanoi to its neighbouring provinces, used to be the hottest area in the city for real estate development. It is now a ghost town of unused and unfinished projects.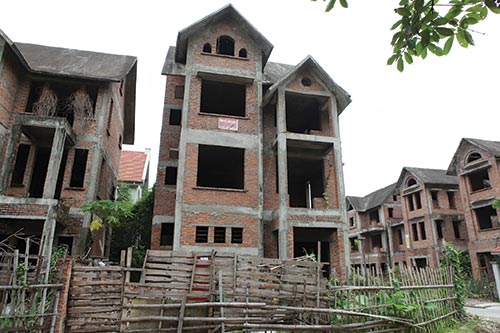 Once considered a much sought-after location to live in, Thang Long boulevard is now all but deserted

Projects located on both sides of the boulevard were considered "golden" when the road opened in 2010, but then the real estate crisis hit and the boulevard turned to lead with numerous projects sitting idle and hundreds of villas and semi-detached houses laying vacant.
Between 2009 and 2010, when the road was under construction, prices along the boulevard skyrocketed because buyers and speculators alike expected they would continue to rise.
At the Splendora project, the price peaked in 2009 when buyers were paying billions of dong just to guarantee the right to buy a villa.
It was the same at other projects such as Nam An Khanh, Le Trong Tan, and Bao Son Paradise.
However, by the time the boulevard opened in late 2010, prices were in a fast decline. Buyers and speculators were selling their villas for less than they paid to prevent further losses.
In early 2014, the developer of New House in Quoc Oai district even announced it was selling villas cheaper than apartments, which reached their peak in 2010. The main cause of this calamity was buyers and speculators' exaggerated expectation of the demand for housing along the boulevard. At one point it was promoted as an attractive prospect due to its convenience for transport and trade.
The reality however, was starkly different. The boulevard runs along the middle of two exterior roads on either side. Access to the projects can only be gained from these two narrow, small roads. This separated the projects from primary traffic flow, and made them inconvenient to live and work in. Moreover, at 30 kilometres from the city centre, the other end of the boulevard is not considered "far enough" for a second home, and "not near enough" for a first home. Therefore many villas at the extreme end have not found buyers.
Two projects along the road, Le Trong Tan and Splendora, both of which have thousands of apartments and villas on offer, are largely unused because there are no support facilities such as education and healthcare.

vir
Share: