Policy - Regulation
Monday, 09/06/2014, 15:52
Real Estate Market Heated up with Preferential Interest Rate Race
09/06/2014
Although the real estate market in Vietnam has warmed up in some segments, the overall development remains weak and slow. To increase liquidity, many investors continued to launch promotions to attract customers. Supporting buyers to borrow low-rate bank loans is a popular enticement used by many investors.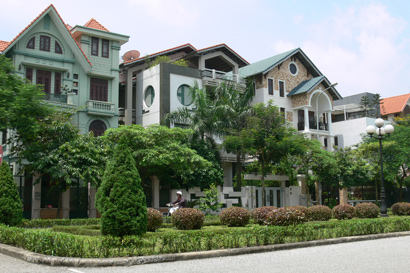 Flexible rate programmes
The property market has revitalised after more than two years in moribund state. Deals are on the rise, leading to increased liquidity. And, many projects start to have margins for traders, particularly in affordable projects. In reality, active real estate projects, in addition to prime locations and competitive prices, provide accesses to soft loans, which carry lower rates than the market.
Invested by Nam Cuong Group, The Spark complex comprising 16 high-rise buildings with individual apartment area of ​​56-120 square metres in Ha Dong district, Hanoi quotes the selling price from VND900 million, excluding VAT. Customers only need to pay VND300 million in the first instalment to possess the completed apartments and the rest will be repaid in 20 years, with zero interest in the first year. Nha Thuc Real Estate Company offered from VND13.5 million per square metre in Tan Viet Tower Apartment project in Hoai Duc district, Hanoi. Customers only need to pay 70 percent of the value to have the completed apartment from 78 - 115 square metres while the remaining 30 percent will be flexibly paid in two years without any interest.
VC7 Housing Complex at 136 Ho Tung Mau Street (Tu Liem district, Hanoi), a joint venture between EZ Vietnam and VUD, also draws the attention of buyers. Banks will offer loans with a maturity of 25 years, bearing a preferential interest rate of 5.91 percent per annum in the first six months and 9.9 percent per annum in the next six months.
Hospital 103 Van Quan Condominium in Van Quan ward, Ha Dong district, invested by Song Da 7 Urban and Industrial Zone Investment Joint Stock Company, is offering its apartments, with an individual area ranging from 82.4 square metres to 118.6 square metres, at VND13-14 million per square metre. Buyers will settle payments in six instalments based on actual progress. Bank for Investment and Development of Vietnam (BIDV) and Military Bank (MB) will lend up to 70 percent of the apartment value in 20 years at low interest rates.
Expectations
Besides the affordable segment, investors are also applying low-rate home-loan programmes for upmarket segments.
Typical projects with rate-support promotions are Gamuda Gardens in Hanoi and Green Valley Phu My Hung in Ho Chi Minh City.
On April 20, Gamuda Gardens of Gamuda City Complex opened the selling of its 364 villas and adjacent duplexes, with an individual area ranging from 189 square metres to 447 square metres and with the price from VND43.6 million per square metre. Customers only need to pay 20 percent of the total value and the rest will be paid in 48 months with zero interest.
In Ho Chi Minh City, Phu My Hung Development Co., Ltd started to sell O-style (87 square metres) and A-style (120 square metres) apartments in Green Valley project. Located in the most modern urban zone in Vietnam, the project with four buildings of 20-27 floors allowed buyers to pay in 14 instalments in 30 months. Up to 20 banks offer to lend buyers with the value equal to 80 percent of the apartment price and the loan will be repaid in 20-25 years, with an interest rate 6.8 percent per annum.
According to experts, affordable segments will continue to be active in the coming time and the upmarket segments will be unlikely to recover.
A recent report from the Ministry of Construction shows that home prices have fallen 30-50 percent compared to when the market was overheated. Therefore, reducing house prices further is unlikely because investors will not make any profit then.
vccinews.com
Share: